Janitorial Services & Office Cleaning
Serving the Vallejo, California Area
Russell Janitorial LLC has provided superior office cleaning and janitorial services in Vallejo, California and surrounding towns since 1988. If you are looking for a Vallejo cleaning company to provide reliable service with guaranteed results, Russell Janitorial LLC is a name Vallejo businesses trust for cleaning. Just call (707) 355-4706 for a FREE quote!
15% off First Month's Cleaning and Free Initial Cleaning*
Office, Industrial Office, Dental, Medical, Schools,& Facilities
*with signed contract
expires 10/31/2023
15% OFF Carpet Cleaning
up to five areas of carpet with Truckmount Steam Cleaning
expires 10/31/2023
---
Call for a FREE Quote
---
About Russell Janitorial LLC
The Owner of Russell Janitorial LLC, Joseph Lewis, has been working in the cleaning field since 1988. After working as a custodian, and as the Facilities Supervisor for many schools in the California district, Joseph is now the proud owner of his own cleaning company. By maintaining his focus on the importance of customer service and trust, Joseph carefully trains each of his employees on guaranteed customer satisfaction.
Taking it a step further, Joseph educates his employees on how to properly perform inspections of their work before their job is truly complete, and to ensure Russell Janitorial LLC provides guaranteed cleaning results, every single time. Determined to maintain trustworthy relationships between Russell Janitorial LLC and its customers, Joseph is always available to contact and speak with him directly. Russell Janitorial LLC is certified by The Institute of Inspection, Cleaning, and Restoration (IICRC), and for our customer's peace of mind, Russell Janitorial LLC is licensed (Business License 16-00010638), bonded, and insured.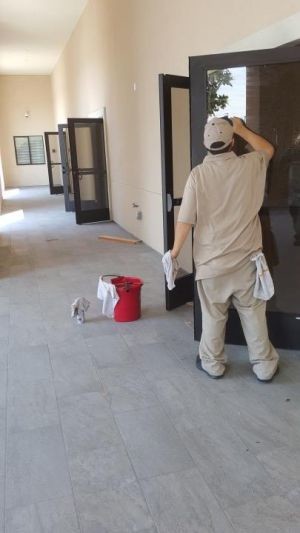 Are you concerned about the presence of germs in your home or the spread of viruses in your Vallejo office, church, school or public building? The disinfection team at Russell Janitorial LLC is ready to respond. All surfaces are treated with EPA recommended products that kill 99.9% of all viruses and bacteria. Keep your employees and loved ones safe and healthy.
From floor to ceiling, your office will be dusted, vacuumed and welcoming to customers, employees and guests. Extra cleanings for holidays and special events are not a problem.
Cleaning is done to your specifications and your schedule. Regular cleaning programs include trash removal, paper product restocking, carpet and hard floor maintenance. Your building will be maintained in prime condition with Russell Janitorial LLC providing your Vallejo janitorial services.
If providing a polished, enticing retail environment is important to you and your clientele, it makes sense to partner with a commercial cleaning business that shares your goals. Russell Janitorial LLC cleans local retail establishments with passion and pride. We know that dusty shelves, stains on rugs and visible dirt have no place in your establishment! For over 35 years, Russell Janitorial LLC has been helping to get retail stores noticed in the best ways possible by creating a shopping environment that makes your customers feel treasured. Call (707) 355-4706 for a quote on retail cleaning today.
---
Call for a FREE Quote
---